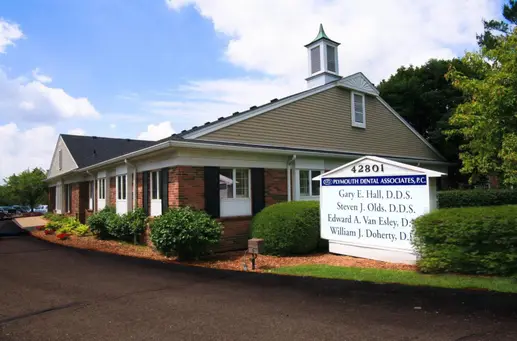 Plymouth Dental Associates is committed to providing the finest, most up to date dental care available. The doctors and auxiliaries attend seminars and classes in the latest, most effective dental techniques. Wellness programs are offered as an extension to our belief that informed patients make better health care decisions. Our patients are expected to take an active role in diligent care of their teeth. Regularly scheduled checkups and cleanings, proper brushing, and flossing will mean that you can expect to have fewer dental problems. The importance of preventative care is stressed and we will teach you how to have your best possible smile. PDA prides itself in the quality of the dental care and services provided. When scheduling appointments, please do not hesitate to express your preference for a particular dentist or hygienist. If timing is a primary concern, you will be appointed on a first available basis.

This page provides you with practical information about our practice. It includes descriptions of our office location, including a map and directions, hours, appointment scheduling, insurance acceptance and billing policies. We look forward to a long and healthy association with you.
Plymouth Dental Associates
42801 Schoolcraft Road
Plymouth, MI 48170
(734) 420-2326
(734) 420-0465
Monday: 08:00 AM - 07:00 PM
Tuesday: 11:00 AM - 08:00 PM
Wednesday: 08:00 AM - 05:00 PM
Thursday: 08:00 AM - 07:00 PM
Friday: 08:00 AM - 05:00 PM
Saturday: 08:00 AM - 02:00 PM
Appointments
Call for appointments or click here to request an appointment online

Emergencies seen day of calling
Insurance and Billing
Payment Options
We accept cash, check, credit cards - Visa, MasterCard, American Express, Discover and Care Credit
Financing Options
CareCredit is here to help you pay for treatments and procedures your insurance doesn't cover. We offer No Interest* financing or low minimum monthly payment options so you can get what you want, when you want it. You can even use CareCredit for your family and favorite pet.
With three simple steps, including an instant approval process, it's easy to apply for CareCredit. After you're approved, you're free to use CareCredit for the services you choose including LASIK, veterinary, dentistry, cosmetic, hearing aids and more.
CareCredit is endorsed by some of the most credible organizations specific to each healthcare profession we support. And CareCredit is a GE Money Company, so you know you can count on us. For over 20 years, we've been helping over five million cardholders get the healthcare treatments they want and need.
Facilities and Equipment
State of the Art Sterilization Center
Zoom™ Whitening
Diagnodent™ laser caries detector
Whisper Jet™ Air Abrasion
Digital x-ray
Intra oral Camera
Parkell Clean Machine™ ultrsonic cleaner
Electrosurgery